Our Group Strategy
Market Trends and Strategic Drivers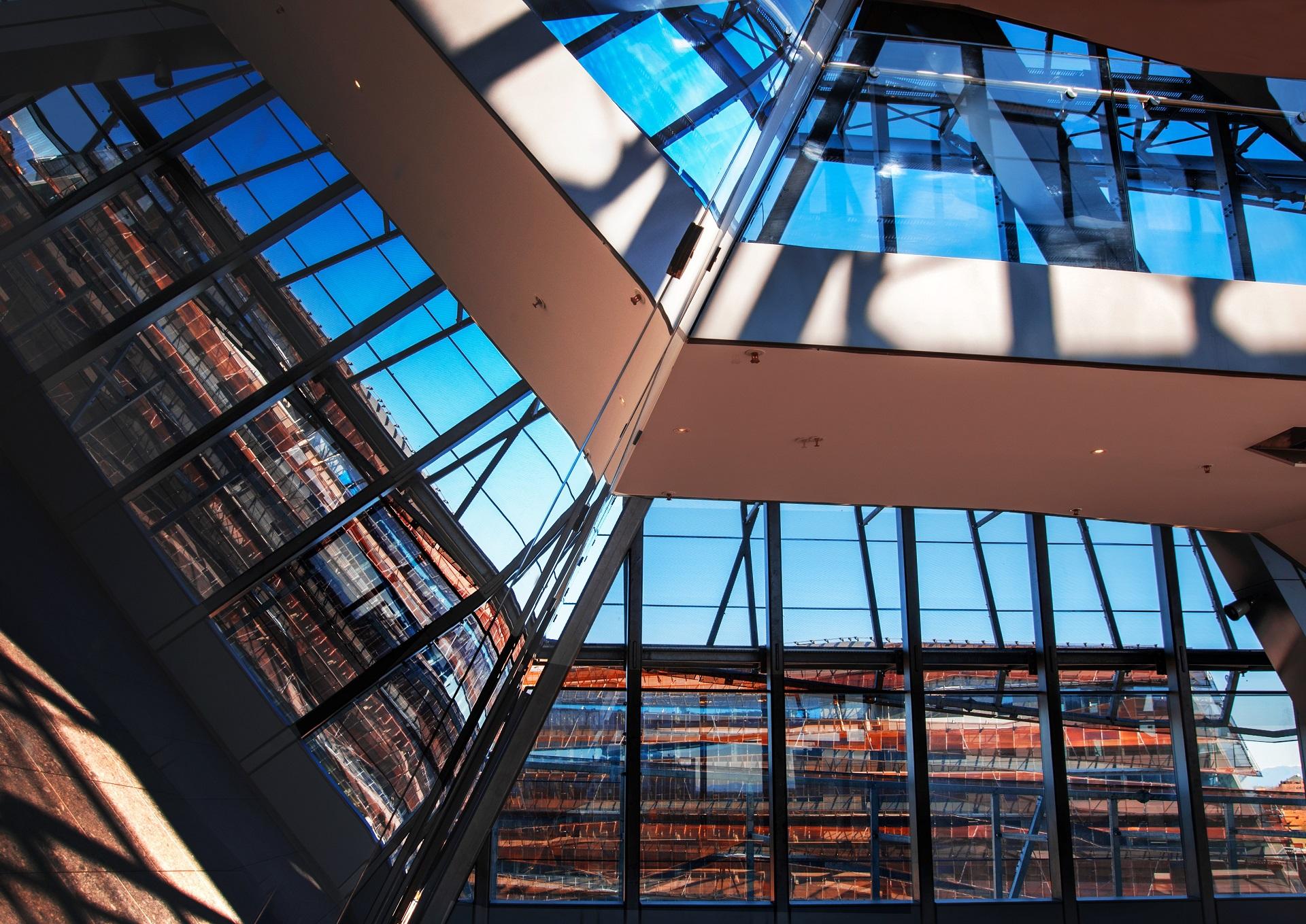 The Future is now: 2023-2025 Roadmap 
Organizational structure, technical capabilities and order book already in place to achieve roadmap targets by generating cash
Puntiamo a rafforzare sempre di più il nostro ruolo di partner per i clienti nel processo di transizione climatica ed energetica.
The 2023-2025 Roadmap represents a new phase for the Group. Webuild has reached a level of scale, expertise and technological know-how that allow it to set more ambitious targets. Webuild aims to strengthen its role as a partner for clients in the climate and energy transition.
The plan is based on three drivers.
Our strategic drivers
1. Business Evolution
Further acceleration of business - Platform and backlog already in hand to deliver targets:
Organization, people, know-how, local platform in core markets

, like Europe, US and Australia, already in place to develop projects and meet targets;

Total order backlog

reached €61 billion at June 30, 2023,

covering 100% of target revenues and EBITDA for 2023-2025

;

Enter in new market segments

, key for communities' leveraging on

Clough skills

.
2. Operational Efficiency Plan and Cash Generation
Webuild remains committed to keeping its headquarter and work site costs under control. The Group also aims to streamline the 2023–2025 investment plan. These measures will allow the Group to improve its cash generation and financial structure.
3. Investments in Safety, Innovation and Environment
Webuild's commitment to guarantee the best health and safety conditions is at the heart of its strategy. This is the result of a constant investment in programs designed to develop a safety culture in all workplaces.
Prosegue anche l'impegno di combattere il cambiamento climatico. 
Reaffirming its commitment to fight climate change, Webuild has set itself the following targets:
50% reduction in carbon intensity emissions

(Scope 1 & 2) by 2025, with the baseline in 2017

reduction of Scope 1 & 2 absolute emissions

by 47% and Scope 3 by 15% by 2030, with baseline in 2019; Science-Based Target Initiative (SBTi) approved targets.
Webuild Group in 2025
The Future is now: ready to deliver
+ + +
2025 backlog.
85% of landing backlog in low-risk countries
+ + +
2025 vs 2022 revenues. 80% of 2023-25 revenues in low-risk countries
2023-2025
Financial Targets and expected growth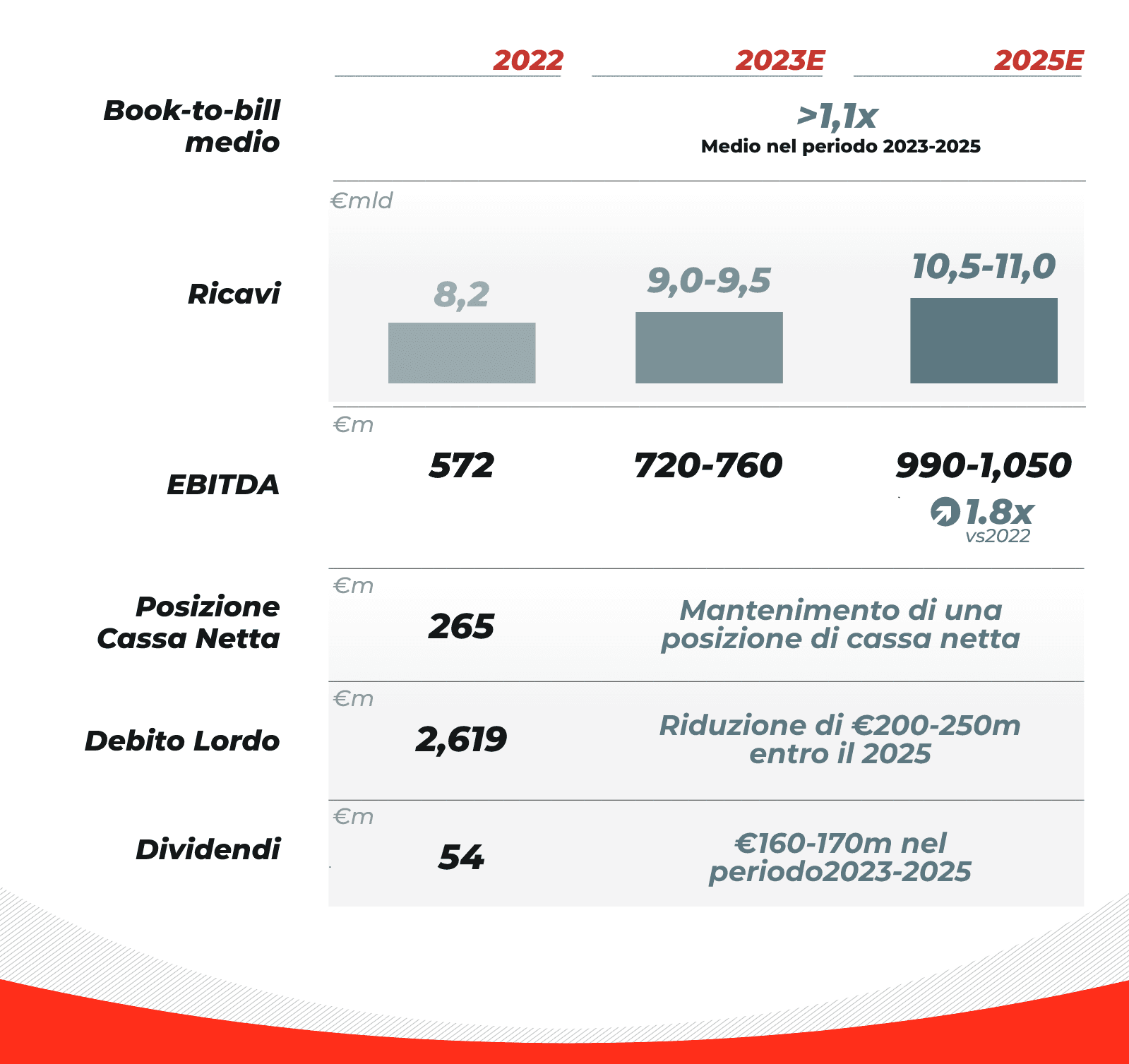 These targets do not reflect the potential impact that might come from the start of mega projects such as the Texas high-speed railway and the Messina Bridge, as well as operating efficiencies stemming from the reorganization of the subsidiaries.
These forecasts are based on the absence of major changes in both the geopolitical crisis related to the military conflict in Ukraine (Webuild do not have an exposure directly to the country) and the evolution of the health emergency, and do not assume extreme disruption to the macroeconomic scenario.
Our Group Strategy
Information material - Bridge project over the Strait of Messina